We are done to the last quarter for the year. Have you accomplished your goals? Hope that things have been going well for you. In any case, this article is a simple reporting for my SRS updates.
Disclaimers: This is not and should not be taken as a buy/sell recommendation.
If you would like to see my past quarter thoughts, you can refer to March2021 and June2021.
It is also close to the end of the year, you might be considering SRS investment. Please refer my most read SRS article, 5 Things You Need To Know About SRS to learn more.
My Thoughts And Consideration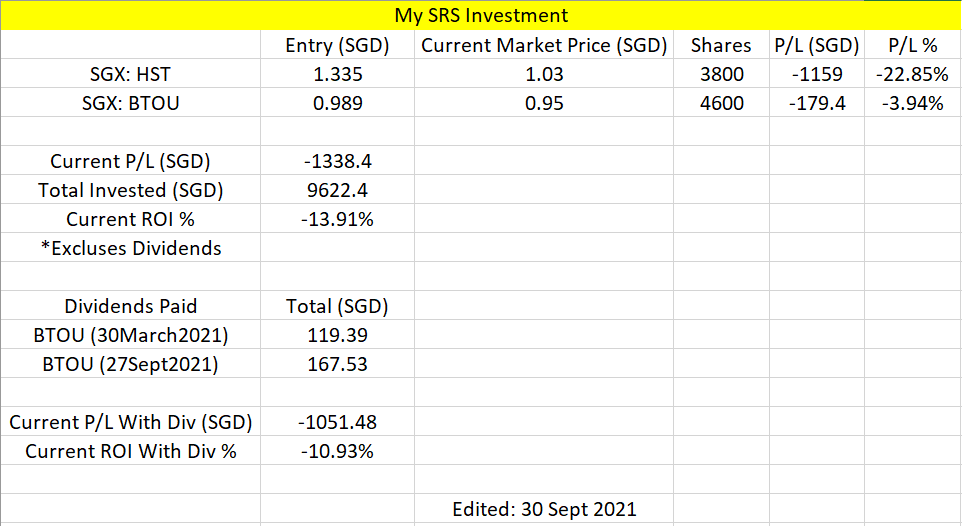 The elephant in the room is the exposure into Chinese Technology Stocks (SGX:HST). It has obviously pulled down the entire portfolio as 50% of my portfolio is invested into it. Unfortunately, this SRS portfolio is still small and there is a concentration risk that I acknowledged.
Policymakers in China announced regulatory reforms that has impacted sectors like construction (think Evergrande), private education (think TAL Education Group) and Technology companies that are handling data (think Didi).
In the case of my SRS impact, it was due to the technology sector. As you can see in the Top ETF holding for SGX:HST, it haven't been doing well year to date.
I remain positive in this exposure as this ETF is invested into quality Chinese companies that can deliver sustainable growth in the next 3 to 5 years. With high internet penetration in China, I believe the performance of the companies will follow suit.
SGX: BTOU is a recovery play in the portfolio. The recovery will depend on COVID19 recovery attempts in US. I'm optimistic that the recovery towards working in office will come in 3 to 5 years time.
Lastly, I'm still considering if I should inject new capital into the SRS portfolio.
Final Thoughts
Disclaimer: this is not and should not be taken as a buy/sell recommendation. Like what Charlie Munger famously said: the big money is not in the buying or selling.. but in the waiting.
We have be having a 3 parts webinar for last quarter of the year. Feel free to reach out to me for more information.
Chengkok is a licensed Financial Services Consultant since 2012. He is an Investment and Critical Illness Specialist. Wealthdojo was created in 2019 to educate and debunk "free financial advice" that was given without context.  
Feel Free To Reach Out To Share Your Thoughts.
Contact: 94316449 (Whatsapp) chengkokoh@gmail.com (Email)
Telegram: Wealthdojo [Continuous Learning Channel]
Reviews: About Me
The views and opinions expressed in this publication are those of the author and do not reflect the official policy or position of any other agency, organisation, employer or company. Assumptions made in the analysis are not reflective of the position of any entity other than the author.