Wealth Management in Singapore typically entails the use of CPF. Given the wealth of knowledge shared by finance bloggers and planners out there, there is no lack of information but only misunderstanding of information. There are merits for each hack below but if used unwisely, it is often irreversible and regrettable.  The below are the top mistakes 5 people make using their CPF.
I will be writing on the hot hacks and why it won't be good strategy for a certain group of people.
Mistake Hack #1: Transfer from OA to SA when…
I have a friend who transferred his CPF-OA amount into his CPF-SA after reading many articles available. He certainly benefited from the higher interest in his SA. He was happy until the day he wanted to purchase a house. After realising that his OA is empty, he would have to use cash or wait for his OA to accumulate back to a significant lump sum before he can buy the desired property.
Mistake Hack #2: Top Up $7000 into SA for Tax Relief when…
The same friend decided on top up $7000 into his SA and thought he could do it indefinitely to claim for tax relief. He thought it was a win win situation as his $7000 can grow from the higher SA interest rates and also reduce the amount of tax her have to pay.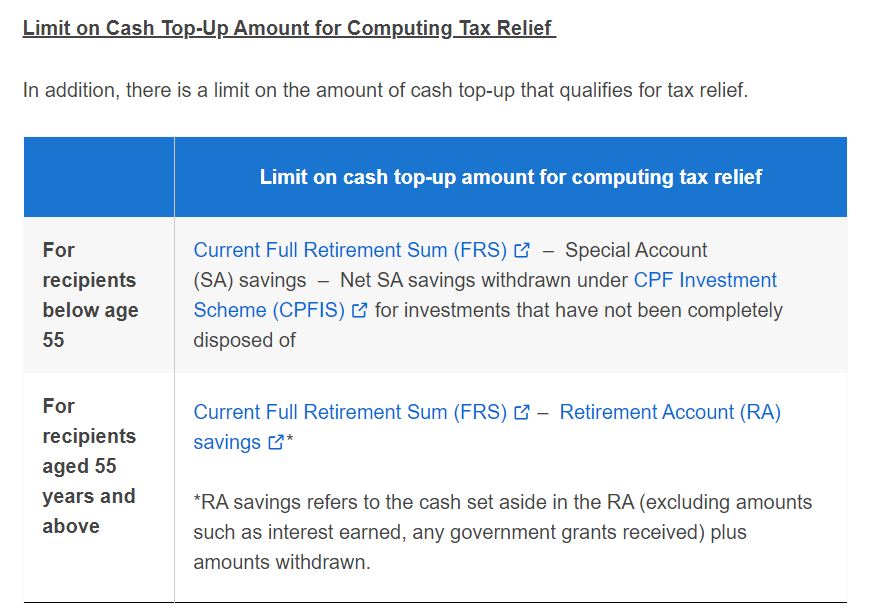 He didn't realised that it is only applicable if his CPF-SA has not reached the current Full Retirement Sum (FRS). As he already transferred his OA amount into SA, he will be able to meet FRS in a few years time and won't be able to have the relief anymore.
Mistake Hack #3: Our Returns are Guaranteed…
While this is not a hack, most people think the returns are guaranteed. In fact, the rates are reviewed every quarter. However, CPF hasn't change their rates in years and so most people think the returns are guaranteed. Most people might have forgotten that it was changed once in 1999 (Post Asian Financial Crisis) from 4.41% to 2.5% for CPF-OA. I'm personally in favor of the rates not changing.
You can find out more on the change in 1999 here: https://www.cpf.gov.sg/Assets/common/Documents/InterestRate.pdf.
Mistake Hack #4: Topping up their CPF when…
This is a common one. In most of my conversations, people top up their CPF when they have a "feel" or "sense of urgency". While, we are living in a fast pace world, there is only one month in the calendar year to top up your CPF that make sense.
CPF interest takes the lowest balance of the month to calculate monthly interest, compound it and credit it at the end of the year. As of the time of writing, I unable to find the source from CPF board that states "lowest balance of the month". It is based on tribal information from seedly etc.
In this case, we should ideally top up our CPF in (around 3rd week) January (compounding effect for the rest of the year), so that in February onward, the lowest balance is already been boosted by the top up and taking into account any tax reliefs from the financial year.
Mistake Hack #5: Allowing SA and OA to be transferred to RA..
For those that are servicing your home loan with CPF-OA, you can continue to do so by stopping your OA balance to be transferred to the RA. One of my friend got a shock of his life when he realised his OA is empty after 55. If you still depend on your CPF-OA on your housing loan, please do set aside some saving for that purpose.
Conclusion
Please do take the CPF-Hacks in their respective context. CPF is not easy to understand but is still relevant and important as part of your wealth management journey.
Thank you SK/PG Mastermind for the inspiration for me to write this article.
No one will care about your money as much as you do.
In Wealth Management, it is important to Pay yourself first. Beware of scams. Before you invest in any company or popular investment opportunity, be sure to do your own due diligence. If you wish to learn more about investment, I hope to nurture genuine relationships with all of my readers.
Please feel free to contact me on my Instagram (@chengkokoh) or Facebook Page or my Telegram Channel! Or subscribe to our newsletter now!