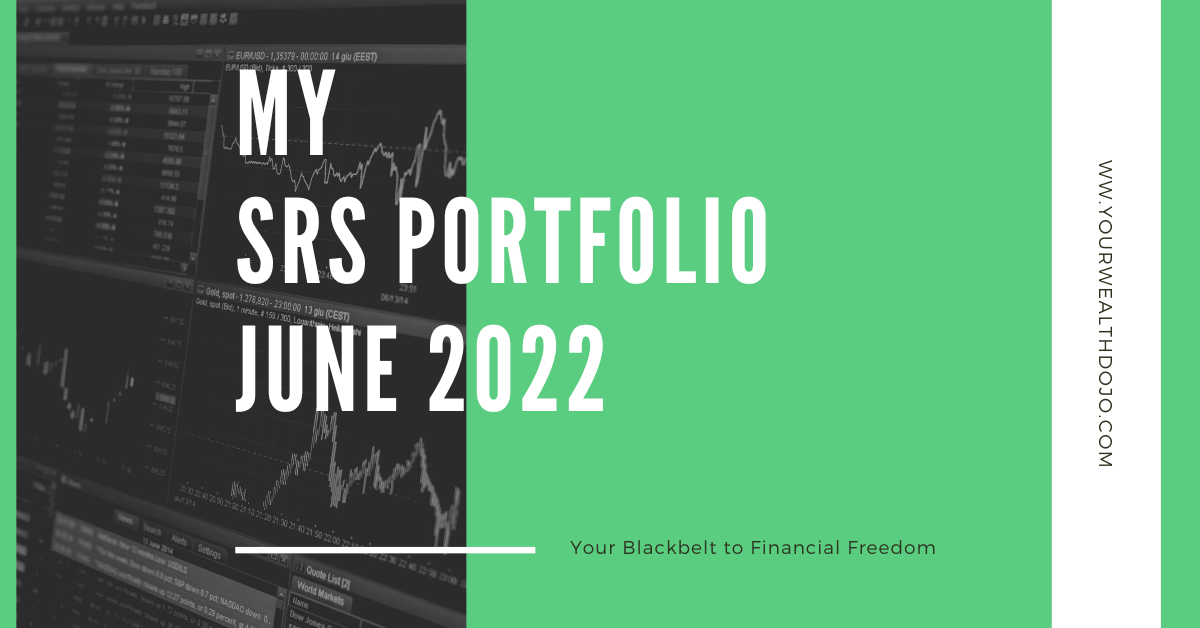 I'm writing this in the middle of June as I'll be busy preparing for reservist during month end. In addition to the perfect long storm, inflation has been coming up in all areas. We are also officially in the bear market [Read More: Bear Market Survival Guide]. I have also finally added my position using dollar cost averaging which I will be covering more below.
If you are new to Supplementary Retirement Sum (SRS), please start here.
Disclaimer: This article is not and should not be taken as a buy/sell/hold recommendation.
My Thoughts and Consideration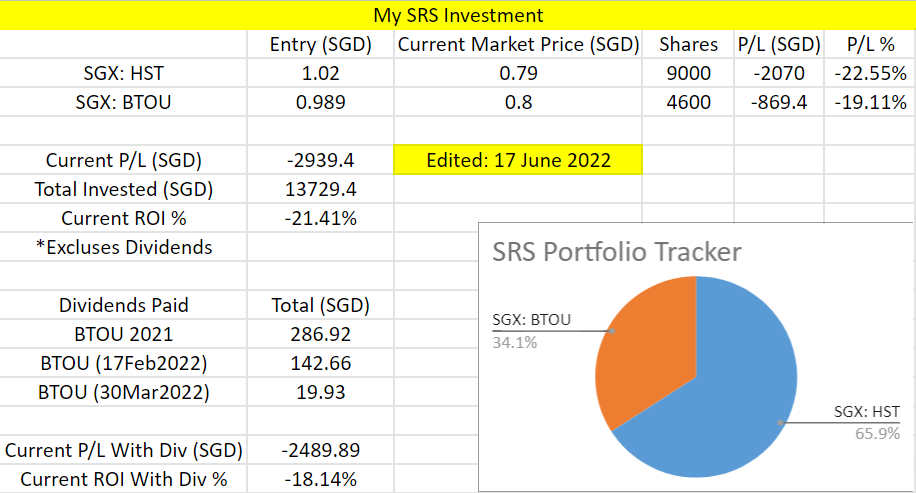 Other than the new pie chart, I have added more into SGX: HST. The new addition is a very simple dollar cost averaging move. In China, Chinese banks cut a key interest rate for long-term loans. This can be seen as a bullish move as this will boost loan demand. However, China still struggles with lock-down from time to time if COVID cases were to arise. Let's see how it turns out.
Meanwhile in SGX: BTOU, William David Gantt is appointed as the new CEO. Gantt wants to build a higher proportion of growth tenants, and this will be done through capital recycling, not acquisitions, for now. Their new focus will be on building quality income instead of growth. We probably will be looking at a new tenant mix in the quarters to come. I believe that the US office space is having an identity crisis now as working from home is a choice for employees now. If every company start to behave like Tesla (remote work privilege to end), we will see a higher occupational rates in the quarters to come.
I probably will be looking at a few Singapore companies in the quartiers to come.
Final Thoughts
I reemphasize again that this is not and should not be taken as a buy/sell recommendation. Wishing you all the best!
Chengkok is a licensed Financial Services Consultant since 2012. He is an Investment and Critical Illness Specialist. Wealthdojo was created in 2019 to educate and debunk "free financial advice" that was given without context.  
Feel Free To Reach Out To Share Your Thoughts.
Contact: 94316449 (Whatsapp) chengkokoh@gmail.com (Email)
Telegram: Wealthdojo [Continuous Learning Channel]
Reviews: About Me
The views and opinions expressed in this publication are those of the author and do not reflect the official policy or position of any other agency, organisation, employer or company. Assumptions made in the analysis are not reflective of the position of any entity other than the author.