I don't think I have to repeat how bizarre is the world is right now. After contracting COVID19, I sat down (actually slept down most of the time) and thought long and hard about how financial events are shaping our economy now.
There are events in the world and many are definitely out of our control. However, some of the effects will be trickled down to be felt by us. I will be talking about my thought of the 3 most important financial events that will affect us, inflation, interest rates and wages.
Disclaimers: All thoughts are mine alone. Though I would love to hear yours in the comments section below.
Inflation
This is Singapore's annual inflation rate over the past 25 years. As Singapore is only independent for 57 years, this data is what Singapore has been facing half the time. You can see for majority of the time, inflation was "well behaved" at 2%. The exception would be spike in 2008 (Financial Crisis) and for a period between 2011 to 2013.
Interestingly, inflation in 2011 to 2013 was cause by largely on account of sharp increases in car and house prices amid scarce supply.

Table 1: Inflation. Source: tradingeconomics.com
While headline inflation is forecast to come in at between 4.5 per cent and 5.5 per cent, while core inflation is projected to average between 2.5 per cent and 3.5 per cent. I will be concerned about core inflation which you can see on the chart below that it went up beyond 4% in 2008. We are definitely feeling the heat with food, electricity and gas prices have been increasing.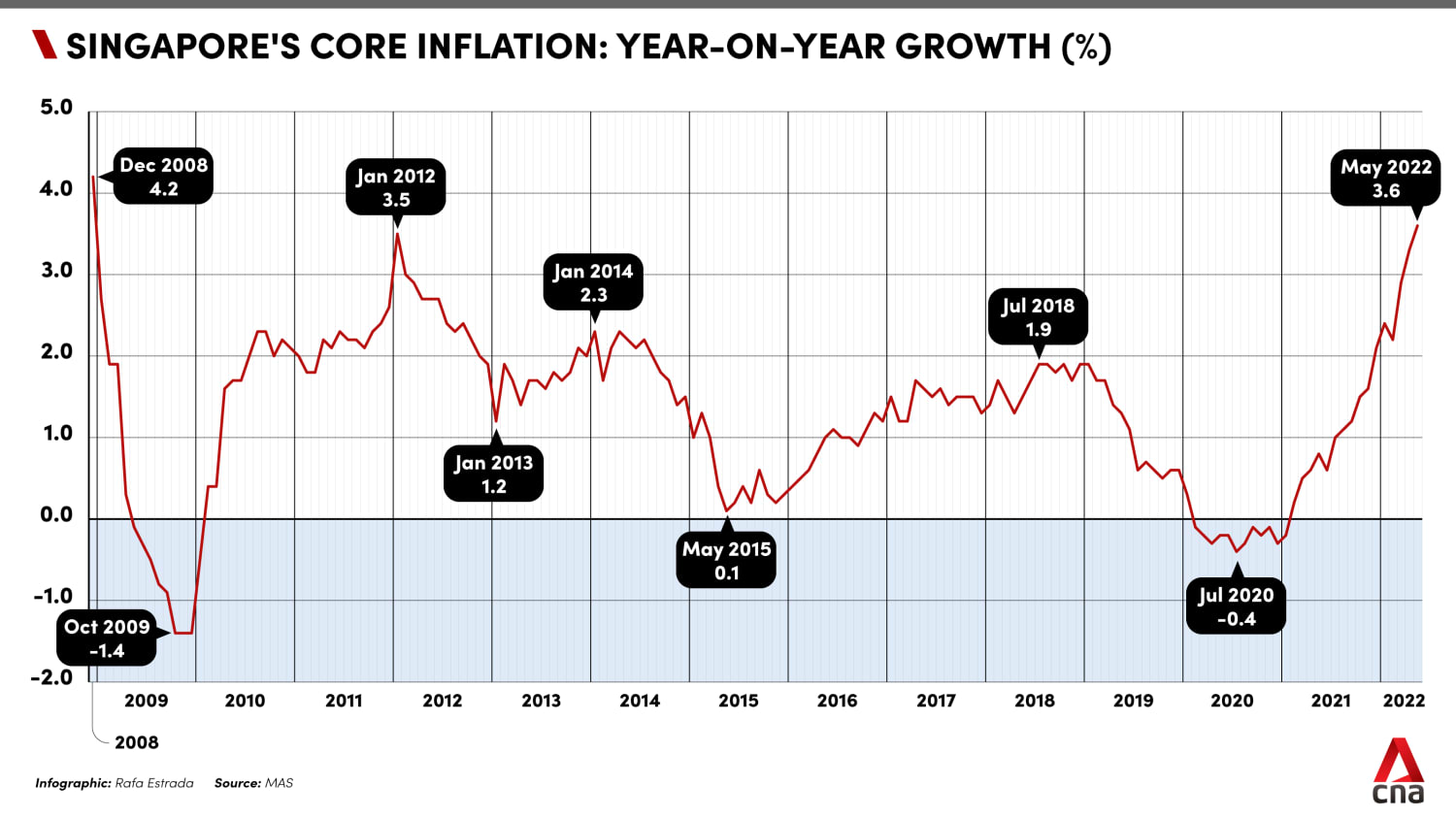 I predict (mainly because of the lack of data and research) that we will be having a inflation > 2% for at least another 2 years before it gets back the usual range. I don't think prices will fall when inflation becomes lower. Hence, make it a point to preserve the value of your money. This is especially important if you are nearly retirement or at retirement.
Interest Rates
Interest rates affects various financial instruments and in the graph above. I'm hearing a lot of chatter on 4 things on the ground.
Housing Loan
When interest rates raise, housing loan rates also raises. As you can see above, the last 10 years we were living in a low interest rate environment. In the last few months, home loans are starting to move upwards to 3% (fixed rate). The implication of this is a cashflow drain.
Imagine you are servicing a 30 years housing loan of $800,000 at an interest of 1.1% previously. Your monthly mortgage works out to be $2610.
At 2%, your monthly mortgage is $2957. This is an increase of $347 monthly or $4164 annually.
At 3%, your monthly mortgage is $3373. This is an increase of $763 monthly or $9,156 annually.
Can you see why people are worried when rates increases to 3% now?
If you are looking into floating rates, Singapore is using SORA now. SORA is 0.8089% p.a. (as at 4 July 2022). A typical spread of banks would be between 0.8% to 1.2% depending on your relationship with them. I would expect the floating rates (including spread) will be between 2% to 4% in the next 2 years.
Fixed Deposits
Hurray to those of you who are cash rich. Guaranteed rates never look better. We are seeing fixed deposit rates increasing with UOB giving 2% for a 2 year lock in. Other banks are also stepping up their interest rates too.
Disclaimer: This is by no means a buy/sell recommendation
Even the Singapore Saving Bonds are giving average 3% returns in July 2022.
Looking at data, I'm concerned as the Housing Loans (15 Years) and Fixed Deposit (1 Year) are highly correlated (see graph 1). The average difference between housing loan and fixed deposit over the years is 3.3%. This means that if Fixed Deposit is 1%, there is a chance that the housing loan could go to 4.1%.
Insurance Participating Policies
Just a year ago, people were terribly concerned about insurance companies' ability to fulfill their participating policies (think endowment policies) illustrated rates. (Read More: Participating Funds Singapore Moving Forward ; Should You Be Concerned About Dropping Illustrated Rates)
The industry has realigned expectations in July 2021. The upper illustration rate will be capped at 4.25 per cent a year, down from 4.75 per cent, and the lower illustration rate will be capped at 3 per cent a year, down from 3.25 per cent.
The previous rate change was in was in 2013, when the upper illustration rate cap was reduced from 5.25 per cent to 4.75 per cent a year. The lower illustration rate was reduced from 3.75 per cent to 3.25 per cent.
The main reason was because of the low interest decade that we were living in.
Now that interest rates are moving up, will insurance companies increase the rates in the participating policy again?
CPF Interest Rates
In a low interest environment, our CPF interest rates looks like an attractive place to reap guaranteed interest (we are leaving context aside for this statement).
Imagine if fixed deposit rates are nearing 3.5% or even 4%, I think it is very important to pause and think if people who continue contributing to their CPF (putting context aside for now) if the rates are near parity.
CPF may lose attractiveness (for a while). That being said, the CPF may change interest rates from time to time. Personally, I doubt that will happen. I am already very appreciative that CPF has kept rates the same despite the prolonged low interest environment.
Wages Inflation
Isn't this something to be celebrated? Local wages grow by 7.8% in Q1, outpacing inflation. I believe that this is because there is a shortage of labor with travel restrictions. If you are looking for an opportunity, this is one of the best timing to seek a higher paying job.
Final Thoughts
Like I said from the start, these are some thoughts that I have jotted down and my own personal predictions for the future. I would love to hear your thoughts in the comments below.
Last but not least, do consider your own context before making your decision. Do reach out if you wish to discuss with me.
Chengkok is a licensed Financial Services Consultant since 2012. He is an Investment and Critical Illness Specialist. Wealthdojo was created in 2019 to educate and debunk "free financial advice" that was given without context.  
Feel Free To Reach Out To Share Your Thoughts.
Contact: 94316449 (Whatsapp) chengkokoh@gmail.com (Email)
Telegram: Wealthdojo [Continuous Learning Channel]
Reviews: About Me
The views and opinions expressed in this publication are those of the author and do not reflect the official policy or position of any other agency, organisation, employer or company. Assumptions made in the analysis are not reflective of the position of any entity other than the author.