Genetic testing is getting more common as the medical scene evolves. If you find out that you have a  "bad" result from the testing, you might fear whether your insurability will be impacted or worried that this is considered a pre-existing condition.
On 27 October 2021, the Ministry Of Health (MOH) and Life Insurance Association (LIA) have put together a Moratorium to protect Singapore Residents from having their insurability impacted as a result of having taken predictive genetic testing.
Please refer to the complete details on the LIA's website. In an event of doubt, please refer back to the complete details as hyperlinked above.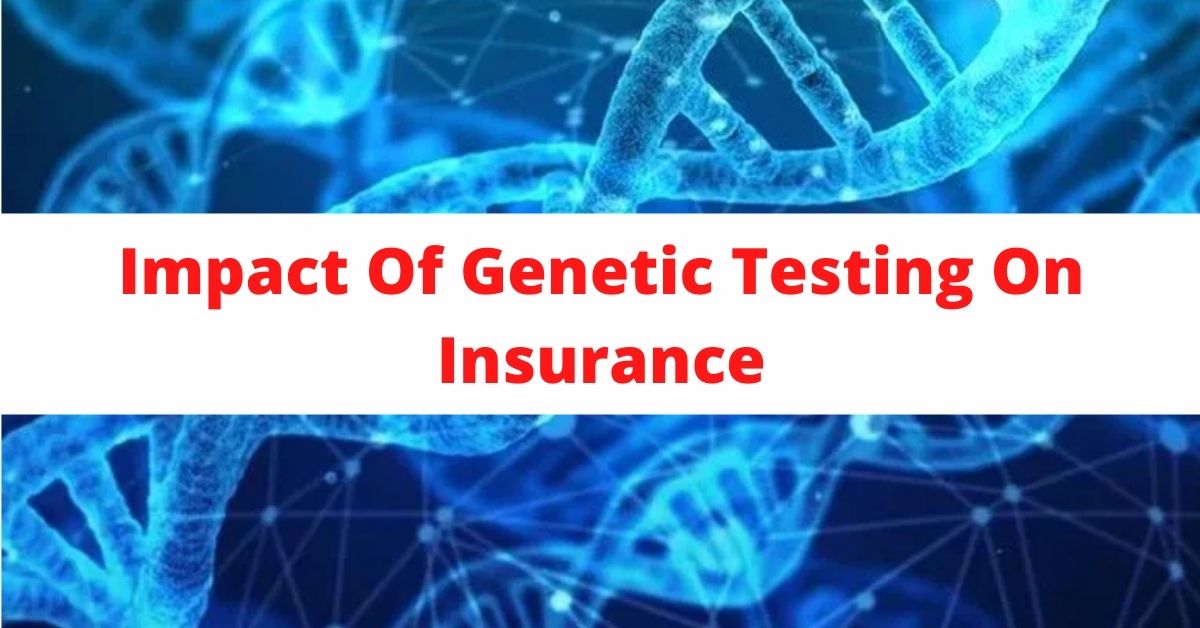 A Brief Background
If you know that you have a higher chance to develop a condition in future (via those gene testing), you might load up on more insurance now. Insurers knowing that will ask for those test results. To then prevent this from happening, you might be deterred to undergo such testing anyway.
This Moratorium serves as a safeguard to prevent unfair discrimination during risk assessment (or insurance purchase) and adverse selection against insurer.
The Summary
Life Insurers in Singapore are NOT ALLOWED to ask applicants for their predictive genetic test results if they have taken the test. They will not be allowed to use those results for underwriting purposes.
However, given certain criteria are satisfied, life insurers may ask and use results of approved predictive genetic test for underwriting.
This is applicable for Singapore Residents only (Singaporeans, PR and valid pass holders). Non Singaporean residents are required to disclose genetic test results. If genetic test are done for biomedical research, applicants are not required to disclose those results.
This is also applicable to the following insurance policies (Life Insurance, Total Permanent Disability Insurance, Critical Illness Insurance, Long Term Care Insurance, Disability Income Insurance) only.
The Criteria Of Being Asked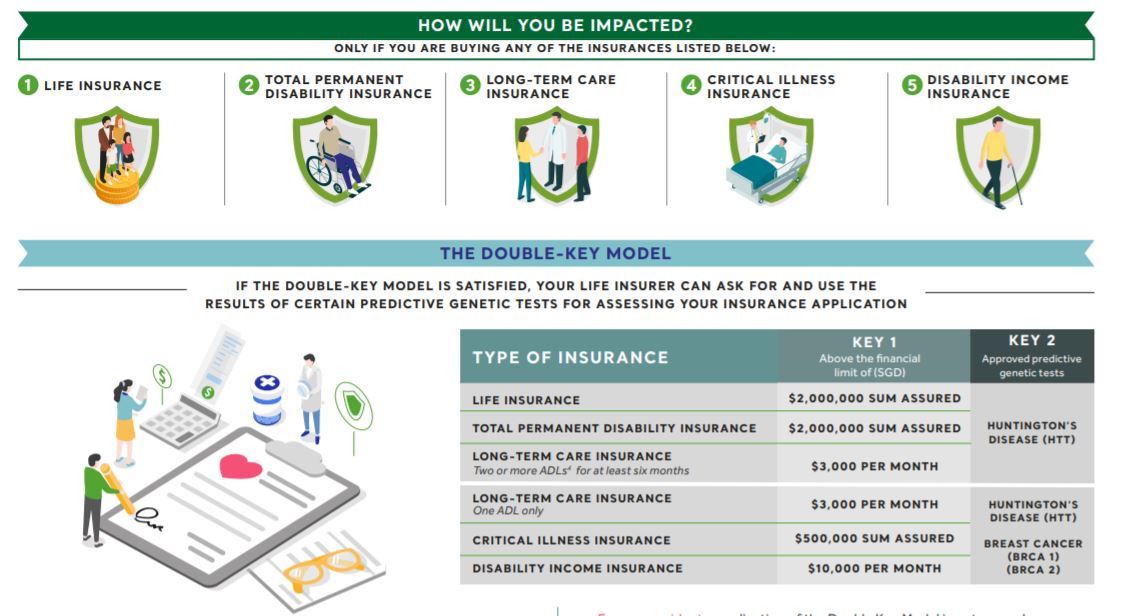 There will be 2 keys that need to be satisfied before the life insurer can ask for and use the results of the certain predictive genetic tests.
The first key involves the sum assured you are considering. This sum assured refers to the total insurance coverage under all policies issued by insurers in Singapore (including concurrent insurance application). If you require a high sum assured, you might have satisfied the first key.
The second key involves the approved predictive genetic test for Huntington's disease (HTT) and Breast Cancer (BRCA 1 and BRCA2). If you have done a predictive genetic test for the above, you would have satisfied the second key.
A simple example:
Sarah wants to buy $1,000,000 sum assured for critical illness. She would have satisfied key 1 because she is buying a sum assured more than $500,000 for critical illness.
If she have taken a predictive genetic test for breast cancer previously, she would have satisfied key 2.
As both keys are satisfied, Sarah will have to declare the result of the predictive genetic tests for her insurance application review.
If you have any questions, there is a listed of FAQs here.
Final Thoughts
Please refer to the complete details on the LIA's website. In an event of doubt, please refer back to the complete details as hyperlinked above.
Stay safe and take care.
Chengkok is a licensed Financial Services Consultant since 2012. He is an Investment and Critical Illness Specialist. Wealthdojo was created in 2019 to educate and debunk "free financial advice" that was given without context.  
Feel Free To Reach Out To Share Your Thoughts.
Contact: 94316449 (Whatsapp) chengkokoh@gmail.com (Email)
Telegram: Wealthdojo [Continuous Learning Channel]
Reviews: About Me
The views and opinions expressed in this publication are those of the author and do not reflect the official policy or position of any other agency, organisation, employer or company. Assumptions made in the analysis are not reflective of the position of any entity other than the author.