After a series of SRS related articles in 2020, there are some readers from investingnote and my telegram channel that asked me to be transparent with my SRS investments. After some discussion with some of my readers, I will be doing regular updates on my thought process of investing using my SRS and the reasons why I invest in some of these funds or products.
The Standard Disclaimer: This is not and should not be taken as a buy/sell recommendation.
Before looking into using SRS to invest, these are some links you should read first before continuing.
Start Here: The $1 SRS Strategy
Basic Knowledge: 5 things you need to know about SRS when you are 40 and older
Your SRS Overseas Retirement Guide: 3 things you need to know about SRS if you plan to leave Singapore
For 40s and above: 10 SRS Investments to Consider Especially if you are 40 and older
Income Tax and SRS: How Much Is My Income Taxes [2021 Edition]
SRS Objective
To invest in sectors that are growing and balance it with reits exposure.
My Considerations
There are 3 instruments that I personally think is interesting and of investing value at this moment of time.
Lion-OCBC Securities Hang Seng TECH ETF (HST.SI)
This ETF is investing into the 30 largest TECH-themed companies listed in Hong Kong. It is diversified across 30 companies ranging from Alibaba to ZTO. While it is undeniable that there may be regulatory risk associated with this ETF, I believe that companies such as Tencent, Alibaba, JD, SMIC is going to propel China's economy into the future. I'm not going in depth into the reason of investing in this article. Currently, I'm already vested into this ETF.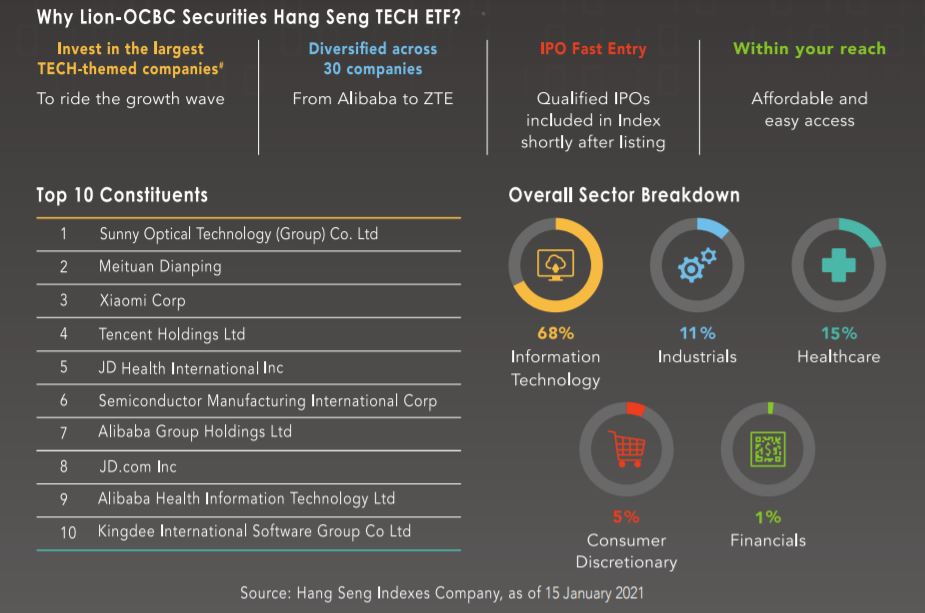 Manulife US Reits (SGX:BTOU)
Manulife US Reits is one that I have been eyeing for a look time. The reits is exposed to income-producing office real estate in key markets in the United States. I personally like the WALE by NLA and also occupancy rates of this reits.
Let me address one common question about COVID-19 affecting office real estates in USA. USA has been adopting working from home for a long time. Beyond the financials, it is important for the company to have a good working culture. The synergy fortunately is created from social interactions in office.
From the corporate presentation in March 2021, only 5% of companies mentioned that there will no longer be a need for an office. Around 70% of bosses expected employees to working from office at least 3 days a week. Similarly, around 70% of bosses expect that they would need more space due to rising headcount and also social distancing needs. Manulife reits rents to a well diversified tenant base ranging from Legal (21% of gross rental income), Finance and Insurance (18.1% of gross rental income), retail trade (13.8% of gross rental income) and so on. Personally, I'm comfortable with this even with the new norms that we might be experiencing. Currently, I'm vested into this reit.
Exposure to Institutional Investors (Ballie Gifford, Blackrock, Wellington)
Currently, I'm not invested into this yet because my SRS funds are insufficient to purchase into them yet. As I'm a representative from AIA Singapore, I would not be able to write the product. Feel free to reach out to me for more details regarding this.
The reason why I think it would make an great investment thesis is because of the expertise of the 3 companies. Wellington is famous for their exposure in the value investing companies. Ballie Gifford is well known for investing in growth companies (such as Tesla). Blackrock is famous for their fixed income. Depending on your intended risk profile, the 3 funds will be allocated accordingly.
I am planning to contribute to SRS in 2021 again for tax purposes. That will be the moment of time where I will be investing into this instrument.
Final Thoughts By Wealthdojo
I reckon my positions will not be changing much. The next change will probably be after the addition of new funds into my SRS to purchase the plan that give me exposure to the institutional investors. Wishing everyone the best in their investment journey.
Do reach out to me if you wish to explore your SRS options.
Chengkok is a licensed Financial Services Consultant since 2012. He is an Investment and Critical Illness Specialist. Wealthdojo was created in 2019 to educate and debunk "free financial advice" that was given without context.  
Feel Free To Reach Out To Share Your Thoughts.
Contact: 94316449 (Whatsapp) chengkokoh@gmail.com (Email)
Telegram: Wealthdojo [Continuous Learning Channel]
Reviews: About Me
The views and opinions expressed in this publication are those of the author and do not reflect the official policy or position of any other agency, organisation, employer or company. Assumptions made in the analysis are not reflective of the position of any entity other than the author.