Have you been thinking of getting a Critical Illness (CI) Coverage for a while but haven't done so? In Wealth Management, insurance is one key element of planning and we have talked about Life Insurers to change definition of Critical Illness in 2019. In 3 months time, there will be new definition for critical illness coverage. Will it affect you? Should you get a CI coverage now?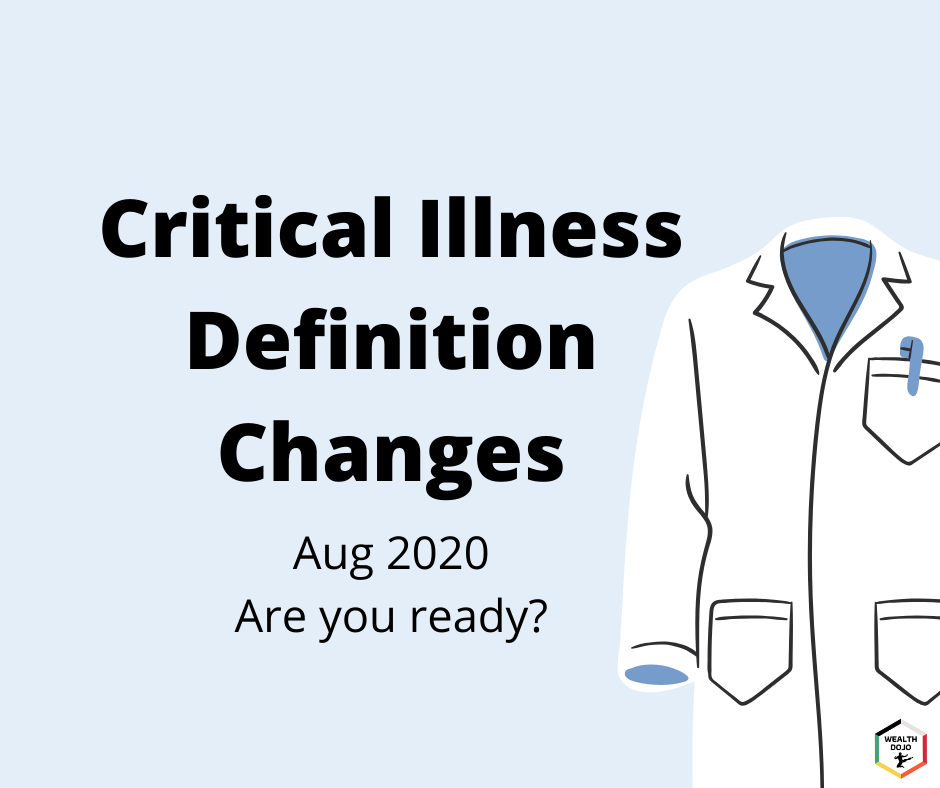 What's happening?
Like it or not, it is happening. Life Insurers in Singapore will have to comply with the new set of critical illness coverage as set by the Life Insurance Association (LIA). Previously, the definition of the 37 critical illness was standardized so that the coverage is consistent across the industry.
This review on the common definitions is to bring the definition up to date and aligned with advances made in medical technology and medical practice as well as to address areas of ambiguity based on insights gained from the past five years of experience.
(Source: LIA 2019 Framework)
What are the changes?
In total, 21 of the critical illness definition will be changed while 16 remains the same.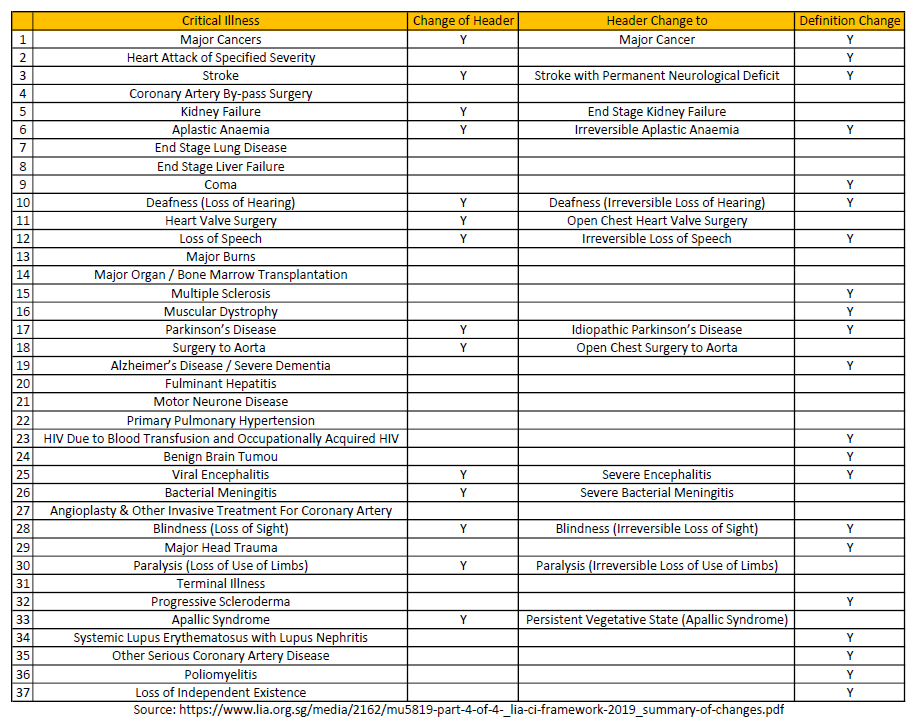 Does this mean it is harder to claim in future?
After looking at the definitions, I believe there are pros and cons to the new definitions.
Pros
Those suffering from Thalassaemia Major or Haemophilia can now get covered under the HIV CI condition.
Viral Encephalitis: Previously, viral infection has to be the cause for it. Now, scope is expanded to include all causes, not just viral infection.
Cons
Stricter, more exclusions for Benign Brain Tumor, Coma, Stroke, Aplastic Anaemia, Heart Attack, and Major Cancers among other things.
The addition of 'irreversible' to deafness, blindness, aplastic anaemia.
Personally, I believe the cons outweighs the pros because the more major cancer, heart attack and stroke have a higher occurrence rate in Singapore. (Source: Top 10 Conditions for Hospitalisation In Singapore). See point 2, 4, 6, 9.
What should you do?
You have time. But, not long. After 26 August 2020, all critical illness policies in Singapore will have to follow the new definition as stated by the LIA.
Review your policies during these few months. Follow up with your financial consultant or you can contact me if you don't have one.
Stay safe!
No one will care about your money as much as you do.
In Wealth Management, it is important to Pay yourself first. Beware of scams. Before you invest in any company or popular investment opportunity, be sure to do your own due diligence. If you wish to learn more about investment, I hope to nurture genuine relationships with all of my readers. Please feel free to contact me on my Instagram (@chengkokoh) or Facebook Page or my Telegram Channel! Or subscribe to our newsletter now!