In April 2018, Singapore decided to open up the electric market to allow retailers to provide electricity to households. There are cost savings yet the adoption rate wasn't very high. In June 2019, around 34% of household consumers have made the switch. In Oct 2020, 48 per cent of all households have switched to a retailer. This means that there is still >50% of household that have not made the switch.
If news of this haven't reached you, let this year be a cost saving one for you.
Some Background
Since 2001, the Energy Market Authority (EMA) has been opening up the retail electricity market to competition. This is to increase competitiveness and also give more choices to consumers. It is for you to choose what make sense for you.
Some Assurance
There are some rumors out there which I would like to put to rest (especially for point 3). Changing to a retailer doesn't mean that your electricity will be "unstable". SP Group will continue to deliver to you.
It is not compulsory to switch (No one is forcing you but I will explain why it might be better)
There is no deadline (You can take as long as you want to consider. But please don't do that)
Regardless of who you buy your electricity from, your electricity supply will stay the same. This is because SP Group will continue to operate the national power grid and deliver electricity to everyone.
If you are eligible for U-Save rebates, you will still be able to use them to offset your electricity bill after switching to a retailer.
What can I choose from?
To make it simple, there is only ONE website for you to go to. Everything ranging from price comparison (I know you are looking for this) to the retailers profile can be found here.
Step #1: Find your Average Monthly Consumption
To see what is best suitable for you, just find out what is your Average Monthly Consumption (in kilowatt-hours, kWh) from your current SP bills. I will be using 300 kWh for illustration purposes.
Step #2: Choose between Fixed Rate VS Discount Off the Regulated Tariff
Choosing this is akin to choosing between Sim Only VS Contract Mobile plans, there is no right answer except which system you prefer.
Fixed rate is rather simple to understand. You would be paying the same rate for the next XXX years no matter how much the regulated tariff were to change. If you are someone who likes the consistency of bills, this might be suitable for you. There will be times you are paying higher than the regulated tariff but there will be times you are paying lesser than the regulated tariff.
Discount off tariff just means a simple percentage discount off the current regulated tariff at that moment of time. A key risk to this is simply when the regulated tariff keeps increasing, your bills will be increasing as well. Looking at the trend of tariff, it seems to be coming down. As 95% of Singapore's electricity is produced from natural gas, I leave it up to you to think of the future trend of the tariff.
Step #3: Select Your Duration
Plans comes in 6 months, 12 months, 24 months. For those that are planning/considering to sell your houses in the next few months, I would suggest the shorter period. For those that will be staying for a while, especially those who are servicing your MOP (minimum occupancy period), you can consider the longer term period.
Like step #2, there is really no "correct" answer to this except which makes sense to you at this period of time.
Step #4: Select The Retailer
By now, you would have the retailer. For pure illustration sake (using 300kWh), you can see that there will be cost saving either from the Fixed price plan (~20% discount) or the Discount Off Tariff (23.6% discount). I estimate a cost saving of $400 for 2 years which is around the price of 2 Omakase Dinner with a partner.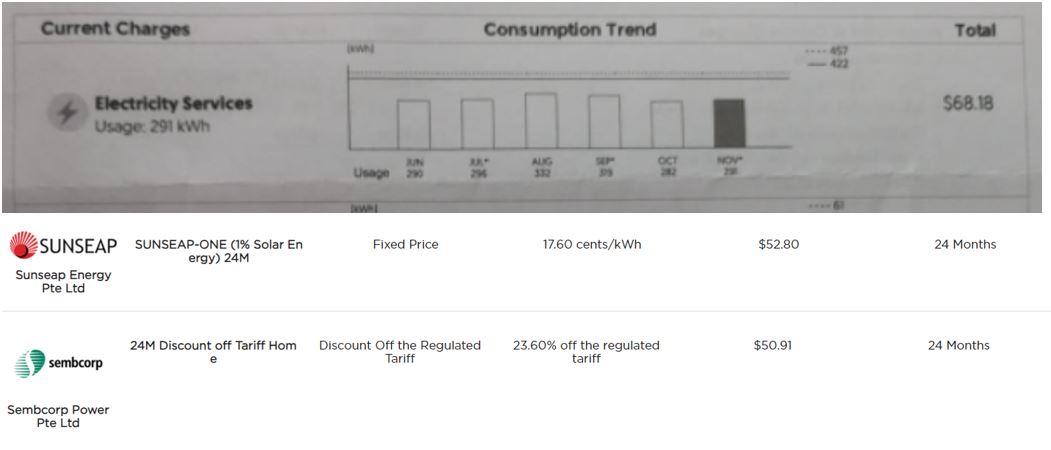 Open Electricity Market Comparison
Final Thoughts By Wealthdojo
Start your 2021 right, some cost savings will go a long way. For those that wish to read about how I spend my money, you can read one of my best article: The Ultimate 4 Quadrants Shopping Guide Especially If You Are 28 and Older, and how to save money on big ticket purchases
Till next time!
Chengkok is a licensed Financial Services Consultant since 2012. He is an Investment and Critical Illness Specialist. Wealthdojo was created in 2019 to educate and debunk "free financial advice" that was given without context.  
Feel Free To Reach Out To Share Your Thoughts.
Contact: 94316449 (Whatsapp) chengkokoh@gmail.com (Email)
Telegram: Wealthdojo [Continuous Learning Channel]
Reviews: About Me
The views and opinions expressed in this publication are those of the author and do not reflect the official policy or position of any other agency, organisation, employer or company. Assumptions made in the analysis are not reflective of the position of any entity other than the author.